AS repeatedly stated at this site – in tandem with countless megaphones across the internet and print media – "democracy is not a suicide pact." But what does it actually mean, and, what difference does it make, anyway?
FIRST things first.
OVER many decades, elected and unelected leaders in the west – a/k/a elitists in political, media, educational, legal, cultural, and related spheres of influence – have been subtly and profoundly influenced by the moral and cultural relativism that has permeated all levels of education in the free world. And with U.S. academia viewed as the "gold standard" of the west, generations of its students have been indoctrinated by the ethical neutrality of the social sciences and humanities. Resultant, countless opinion makers and policy makers have been taught (future ones are in the making) that there are no rational or objective standards by which to distinguish between right and wrong, good or bad, and this inhibits many from calling out and identifying evil for what it is. 
SIMPLE as that.
TO wit, it is into this (mis)educational abyss that a highly immoral and toxic environment has emerged, that which has inculcated and tolerated the intolerable – rendering, otherwise reasonable men with eyes and ears to become blinded to rationality and objectivity.
IN this regard, both the fascist-left and soldiers for Allah have emerged triumphant within the American landscape (the west, in general), and this truth can no longer be denied or ignored – as hard as opinion makers and policy makers try.
STILL, to further shore up said indictments, just consider the following as two foretastes – out of an ever-climbing mountain of evidentiary trails. Proofs.
FORETASTES:
Even after Mohammedans slaughtered thousands of Americans on 9/11/01 – terrorizing an entire nation in the process – how could it be that Muslim-Americans were able to form (in 2014) their own political party, while muscling through the nation's halls of power with major Jihadi leadership at their helm? Pointedly, is this not national suicide, albeit through the democratic process? If not, why not?
The US Council of Muslim Organizations (USCMO), a coalition of leading national and local American Muslim organizations, today announced plans to host the first-of-its-kind National Muslim Advocacy Day on Capitol Hill in Washington, D.C. on April 13, 2015.
Expected to draw hundreds of Muslim delegates from across the nation, this one-day event is open to representatives of all national, state and local Muslim organizations and communities.
The event is designed to connect national, regional and state Muslim organizations, community members with more than one-third of the U.S. House of Representatives and a half of the Senate. Advocacy day issues will focus on the domestic priorities of the American Muslim community.
"We encourage the Muslim American community to participate in this unique opportunity to meet with their legislatures and experience the democratic process first hand," said Oussama Jammal, Secretary General of USCMO.
"Muslim communities frequently host state advocacy days in state capitols nationwide, but American Muslims have never held a unified national event in Washington, D.C.," said Robert McCaw, chairman of the USCMO Advocacy Day Steering Committee.
"This is an important step in promoting greater Muslim political engagement and stronger ties with Congress. We're particularly looking forward to 'moving the needle' in the nation's capital on issues that impact American Muslims."
USCMO will soon launch a registration website that will prepare Muslim delegates for their congressional meetings. The coalition will also hold a series of online training seminars on effective advocacy techniques and will provide support in scheduling congressional meetings.
On the day of the event, Muslim delegates will be offered a series of seminars on Capitol Hill covering best practices for meeting with elected representatives and how to discuss the day's advocacy issues.
For more information about the event or how your Muslim organization or community can participate, please contact the USCMO at: advocacy@uscmo.org.
Founding members of USCMO: American Muslims for Palestine (AMP), Council on American-Islamic Relations (CAIR), Islamic Circle of North America (ICNA), Muslim Alliance in North America (MANA), Muslim American Society (MAS), Muslim Legal Fund of America (MLFA), Muslim Ummah of North America (MUNA), The Mosque Cares (Ministry of Imam W. Deen Mohammed).
Hmm…trust this Jihadi expert on a verily explosive truth: the above "sponsors" are a list of "who's who" in the Muslim Brotherhood Mafia!
ALL of which brings the discussion straight back to the core thesis and charge sheet – that which has allowed a U.S. Appeals Court to gift an indicted soldier for Allah rewards and more!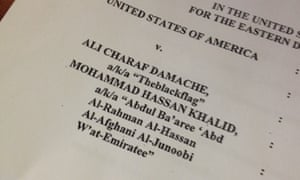 "Court: Ex-terror defendant facing deportation is US citizen," by Larry Neumeister, Associated Press, September 13, 2018:
NEW YORK — A one-time Maryland high school honors student who admitted aiding Muslim extremists overseas and helped the U.S. pursue terrorists after his 2011 arrest is a U.S. citizen, a federal appeals panel said Thursday as it erased a pending deportation order.

The ruling by the 2nd U.S. Circuit Court of Appeals in Manhattan means 24-year-old Mohammad Hassan Khalid can continue his studies at a Maryland college.

His Philadelphia lawyer, Wayne Sachs, called the decision a "very satisfying victory for a well-deserving young man with a bright future."

He said the three-judge appeals panel, unlike four earlier courts, "properly focused on the law rather than the petitioner's 'notoriety.'"

The U.S. government did not immediately say if it planned to appeal.

Circuit Judge Dennis Jacobs wrote that he cannot congratulate Khalid, given that he "plotted sneaking violence against Americans."

"He cooperated with the authorities only when, having been caught, he found himself needing another kind of refuge," Jacobs said.

Circuit Judge Christopher F. Droney, who wrote the main opinion, explained that Khalid was entitled to citizenship because he was under age 18 when his father gained citizenship….

Khalid entered the United States in 2007 with his family. He was born in the United Arab Emirates, but was a Pakistani citizen because his parents were Pakistani.

Khalid was 17 when he was arrested in 2011 after winning a full scholarship to prestigious Johns Hopkins University. Authorities said he had been engaging in radical Islamist chat rooms from his family's small apartment near Baltimore since he was 15.

In 2012, he pleaded guilty to conspiracy to provide material support to terrorists, admitting that he had agreed in his secret online life to raise money and recruit terrorists for jihad….
PRAY tell, who are the crazies? Are they the three-judge appeals panel who exculpated his terror record; the lawyer (barf….another Jewish useful idiot) who got him off, or the Jihadi who knew he could play the democratic system like a fiddle, that is, until the next plot is hatched? Hint: not the Mohammedan!
BUT it is not as if any of this dangerous and suicidal behavior should come as a surprise. Not at all. In fact, if it does, that's the shocker.
SO consider the most definitive evidence of all, as to how off the cliff the powers that be really are: five terrorists from 9/11/01 are still awaiting pretrial hearings! How can this be?
WELL, if not for having lost their moral and ethical bearings – and that's putting it simplistically – Maryland's 24-year-old Jihadi (among countless others) wouldn't be in the throes of benefiting from America's largess. In the main, but for the fact that 9/11/01 terrorists have yet to be put on trial, what followed in its wake would be worth less than a piker's damn. Yes, America's system of justice would be feared, as opposed to mocked.
AND if the above is not enough to cause rational folks to howl – where the hell is America headed, and how are patriots supposed to respond to the madness – the following is what awaits, if nothing is done to thwart the nation's precipitous slide into suicide-mode.
Earlier last year, in the neighborhood of Lake Calhoun which is a predominantly upscale area in Minneapolis, a mob of 30 Somali Muslim men congregated in a large group and proceeded to go through this neighborhood and threatened to rape women and kill non-believers of Islam and anyone else they felt like inflicting violence on. One woman, who was threatened with rape and murder was so scared when she was interviewed by the local news that her voice and appearance had to be disguised. She told the KSTP news reporter, "We couldn't get him out. We didn't know what to do. They were screaming at the house that they were going to kidnap me, and we're going to rape you. It was just a very traumatizing experience."  While these threats were being made, there were other Somali terrorists driving their cars onto sidewalks and shooting fireworks at people. Yet the leftists want Americans to accept this as cultural diversity. You can watch the KTSP News broadcast here.
The Mayor of Minneapolis has done nothing to protect citizens from this violence and has only encouraged this Muslim terrorist hoard. Mayor Hodges, in an effort to appease the Somali terrorists set up an anti-blasphemy hotline where Muslim citizens could call in and report on other citizens who they, felt were harassing them. In actuality, the hotline was set up to target Trump supporters because Mayor Hodges is more interested in her political agenda than ensuring all citizens of Minneapolis are safe.
This incident of a Muslim hoard ripping through the Lake Calhoun neighborhood and threatening rape and murder is not a single occurrence. Residents of Lake Calhoun have made multiple reports to the Minneapolis Police Department about these terrorists and their dangerous behavior. These instances of violence are hate crimes and the MPD should be investigating them as such. Not surprisingly, the mainstream media didn't bring significant attention to this issue because it doesn't fit their "friendly immigrant" mantra. However, these terrorists threatening rape and murder serve to demonstrate that President Trump is correct in stopping anymore of these terrorists gaining entry into the United States.
Mayor Betsy Hodges has even stated, when questioned about her Nazi-like anti-Trump hotline, "I will not compromise the public safety of the people of Minneapolis to satisfy Trump's desire to put politics before public safety. Minneapolis is being built and strengthened by people from all over the world and I am grateful for their commitment to our city. I stand with them today and will continue to take that stand as the President-elect prepares to take office." If Mayor Hodges is so interested in public safety, then perhaps she should direct the MPD to investigate these incidents of violence as hate crimes.
The City of Minneapolis also serves as a breeding ground for recruiting ISIS and Al-Shabab fighters. Ami Horowitz from Fox News interviewed several Muslim men in Minneapolis, most of whom openly advocate for Sharia law over American law, and feel it should be against the law to insult the prophet, Mohammed. One of the few women to be interviewed by Ami Horowitz even stated it's okay to force a 15-year-old girl into a forced marriage. This is all happening right here in the USA. If you'd like to see what the future holds for other U.S. cities if we don't exterminate this terrorist threat, you can see it here.
At the 3:05 mark, the same woman who advocates for 15-year-old girls being forced into marriage also states its okay in the USA to kill someone who insults the prophet, Mohammed. The interesting part of this segment is when Ami Horowitz asks these Sharia- loving Muslims where they would rather live, their response is, "I'd rather live in Somalia." Yet, here they are in the United States getting all of the government benefits they can and enjoying a much more comfortable life. Perhaps if they hate the USA so much, they should really go back to Somalia.
MIND you, this site has hammered highly specific Minnesotastan threats, among others – again and again and again and again and again…..
CONCLUSIVELY and consequentially – as to the answers to the very basic and pivotal questions posed in the opening shot – two piggybacks are central and mandatory to internalize. 
PIGGYBACK ONE:
WHEN a nation's moral compass is set asunder – whatever the reasons may be – there is nothing to stop injurious and dangerous forces from taking over. In other words, all bets are off, so to speak.
AND it is into this deep and dark void that the nation's judiciary has fallen, thus, becoming a present danger. Incapable of executing the law (beholden to political and unelected power players who propelled them into this and that judgeship), dispensing real justice is not on their agendas. Rather, a preponderance comport themselves as PC activists for whichever "protected and aggrieved" group stands before them, effectively, social engineering and twisting the law into pretzel-like knots from the bench! How insane and dangerous is that? Meanwhile, the Constitution they are sworn to uphold has been violated and vitiated of all meaning.
PIGGYBACK TWO:
TRENCHANTLY, is it any wonder that those who plot to carry out terror attacks against fellow Americans are given little reason to fear the so-called heavy-hand of the nation's legal system (never mind the assistance gifted via the nation's security arms, namely, the FBI), to the degree that the "worst of the worst" have yet to be tried and indicted, while others are free to retain their citizenship and to enjoy the perks of a U.S. education to boot – as worthless as it may be? And never mind the rest of the bounty the nation bestows upon those who should be locked up forever, instead of unencumbered to plot for another day. 
RESOLUTELY, the leadership have gone mad – as the lynch pins of the free world, or of what's left of it, have fallen off the axis!