WHEN living in a third world country, or a nation run by an iron-fisted junta, few are surprised when political assassinations occur. Hell, if they didn't, that would be the shocker! Mind you, it doesn't mean that so-called democracies are immune from said "eliminations." In fact, Israel has experienced politically-motivated deaths, despite this and that denial. But let's not get distracted, for this discussion is about America – the nation leading the free world.
IN this regard, only the deaf, dumb and blind are unaware that "Hill & Bill " have been getting away with a multitude of crimes, and as far back as Billy-boy's  governorship. But even if unable to pinpoint this one and that one, the fact is that most understand that the Clinton's are corrupt to the core – ideological differences aside.
WITH the above intact, it is hardly accidental that this site – time and again – features the criminally-bent duo. Yes, "Clinton's death count " goes on and on….. 
HILL & BILL'S (PARTIAL) CRIMINAL LIST: CLINTON, INC.
Back in October 2013, these pages began documenting the pile up of dead bodies at "Hill & Bill's" door. As such, a laundry list of criminal activity keeps growing and growing. Indeed, they are the most infamous "power couple" in America, perhaps, in the world.
AND while it would take a book to catalog "Hill & Bill's" stream of death and destruction, it is invaluable to dig up that which the public is most familiar with – even though it hardly scratches the surface.
ENTER…the Clinton Foundation and its multiplicity of frauds via one (of various) criminal conspiracy coined by Haiti's hierarchy – the "Raping of Haiti! " 
"The Clinton family, they are crooks, they are thieves, they are liars," says Haitian activist Dahoud Andre.
He has been leading protests outside the Clinton Foundation headquarters in Manhattan and Hillary Clinton's presidential campaign base in Brooklyn for the last two years.
He said protesters from his small activist group, the Committee to Mobilize Against Dictatorship in Haiti, will continue to level their allegations – so far all unproven – if the Democratic candidate wins the White House.
Republican presidential nominee Donald Trump raised the matter in the third and final presidential debate when he told Mrs Clinton: "I was at a Little Haiti the other day in Florida.
"And I want to tell you, they hate the Clintons, because what's happened in Haiti with the Clinton Foundation is a disgrace."
Mrs Clinton retorted that she was proud of the foundation's work, and pointed out her rival's namesake charity had spent money on a lifesize portrait of himself.
The Clintons' history with the world's first black republic dates back to their 1975 honeymoon, when they met a voodoo priest and visited a hotel where Ernest Hemingway once stayed.
Few could have guessed the two young Americans touring the attractions that December would one day wield such influence over the impoverished Caribbean island nation.
Mr Andre is not alone among his compatriots in blaming the once-and-perhaps-future first couple for a litany of ills in Haiti.
Kim Ives, editor of Haiti Liberte newspaper, told the BBC: "A lot of Haitians are not big fans of the Clintons, that's for sure."
"The fact the Clintons kind of took over things after the earthquake and did a pretty poor job of it translates to why the Haitians have a pretty dim view of them," he added.
Replicated mistakes
Mrs Clinton was Secretary of State and Mr Clinton was UN Special Envoy to Haiti when the January 2010 earthquake struck, killing an estimated 220,000 people.
Some $13.3bn (£10.9bn) was pledged by international donors for Haiti's recovery.
Mr Clinton was appointed co-chairman of the Interim Haiti Recovery Commission (IHRC), along with Haitian Prime Minister Jean-Max Bellerive.
BUT if the above isn't indicting enough in certain circles, no matter. For regardless of skeptics and outright naysayers, body after body continually drops – that is, if one becomes a liability, thus, capable of blowing the whistle!
SO, how many are aware that Nov. 13, 2016 wasn't exactly a fortuitous date for someone caught in their cross-hairs; having sniffed out the criminal duo's links to child trafficking in, of all places, Haiti! Par for their deadly course, Monica Petersen – who was coming close to the truth – ended up six feet under! Of course, her death is being labeled a "suicide." How convenient. But never mind…listen up:
Before her death, Monica sent her friend this online message:  "[…] the real significance of this scandal for me, I know you feel me [redacted], is the link to contemporary slavery and trafficking. I can't say to what extent, but there is human trafficking happening through the Clinton's Caraol Complex. And mining has always been historically linked to trafficking, slavery, and labor exploitation. I'd like to go see for myself who's laboring at Morne Bossa, but I would hypothesize that the Dominicans are doing the contractual oversight of the mining, while marginalized Haitians are being exploited for low or no cost labor in dangerous mining conditions.  That's two huge human trafficking scandals, an environmental degradation scandal, a social displacement scandal, a Presidential election scandal, a scandal with billions in unaccounted for earthquake aid… all leading directly back to the Clintons racist cronyism in Haiti."
THERE's more. 
ON December 10, 2017, another poor soul paid the ultimate price: Dr. Dean Lorich, a well-known surgeon, a real humanitarian, ended up among the non-living, of course, under highly suspicious circumstances! No doubt, his demise was carried out on the orders of "Hill & Bill." Again, dropping like flies. Oh my, you can't make this sh-t up.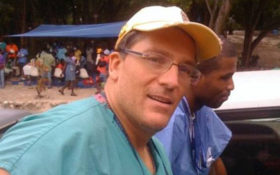 (Dr. Dean Lorich on the ground in Haiti where he was disgusted to witness Clinton Foundation corruption first hand.)
Dr. Dean Lorich, an orthopedic surgeon who volunteered in Haiti and exposed Clinton Foundation corruption and malpractice on the island, has been found dead in New York. He was 54.
Dr. Lorich was found by his 11-year-old daughter on the bathroom floor of his tony Upper East Side apartment with a knife in his chest at around 1pm on Monday.
The knife missed the surgeon's heart, leaving him to bleed out and be found by his daughter. Despite the fact police were called to the property regarding an "assault", they instantly registered the death as "suicide" and closed the case.
One of the United States' leading surgeons, Dr. Lorich was part of the relief effort sent by the U.S. to assist the relief effort led by the Clinton Foundation in Haiti after the devastating 2010 earthquake. However Dr. Lorich was disgusted by the "shameful" Clinton Foundation operation, and voiced his concerns to Hillary Clinton directly.
Unsatisfied with her response, he went public, writing an article published by CNN, accusing the Clinton Foundation of widespread corruption and malpractice in Haiti that cost the lives of thousands of children.
Billions of dollars were raised by the Clinton Foundation to help the Haitians, but the vast bulk of this money was funneled to Clinton friends and associates, according to Dr. Lorich, who described in harrowing detail what this meant for the children of Haiti.
Dr. Lorich argued that, in essence, Clinton greed left Haitian children to die painful deaths:
"We expected many amputations. But we thought we could save limbs that were salvageable, particularly those of children. We recognized that in an underdeveloped country, a limb amputation may be a death sentence. It does not have to be so."
"Shameful"
Considering billions of dollars had been donated to the Clinton Foundation with the express purpose of helping the Haitians, Dr Lorich and his team expected to have full support when their plane touched down.
Instead, Dr. Lorich described the situation on the ground as "shameful" and he witnessed Clinton Foundation corruption in action. The Haitians were receiving no help whatsoever.
According to Dr. Lorich, a paltry 0.6% of donations granted by international donors to the Clinton Foundation with the express purpose of directly assisting Haitians actually ended up helping citizens of Haiti. 9.6% ended up with the Haitian government. The remaining 89.8%  – or $5.4 billion – was funneled to non-Haitian organizations.
Dr. Lorich's WikiLeaks emails
Unable to perform his duties – and disgusted by the rampant corruption – Dr. Lorich sent an email to then-Secretary of State Hillary Clinton's Chief of Staff Cheryl D. Mills to report what he had seen. The email was then forwarded to Hillary Clinton which meant it eventually found its way into WikiLeaks' possession and can be read here.
Unsatisfied with the lack of response from Hillary Clinton, Dr. Lorich went public, co-authored the CNN article that exposed the Clinton Foundation's corruption and malpractice in Haiti:
"We found scores of patients with pus dripping out of open extremity fractures and crush injuries," reported Dr. Lorich.
"Some wounds were already ridden with maggots."
"About a third of these victims were children."
"The entire hospital smelled of infected, rotting limbs and death."
"Later on, we would judge our surgical progress by the diminishment of the stench."
"As we got up and running and organized the patients for surgery, we told our contacts in the United States [the Clintons] what we needed."
Unfortunately the Clinton Foundation did not provide that help, despite pocketing billions of dollars from donors with the express purpose of providing medical support to desperate Haitians.
"We left feeling as if we abandoned these patients, the country, and its people, and we feel terrible," Dr. Lorich wrote, adding: "Our flight of critical medical equipment and personnel had been canceled."
The father of three girls, Dr. Lorich was the associate director of the Orthopedic Trauma Service at the Hospital for Special Surgery in New York City, as well as the Chief of the Orthopedic Trauma Service at New York Presbyterian Hospital.
CLEARLY, this highly accomplished surgeon didn't need the prestige of the Haitian relief effort, as esteemed as he was in his field. 
NOT only that, don't be fooled/distracted by "Hill & Bill's" online hench-people – tasked to tar those who disagree with their narrative as "conspiracy" theorists. Yes, this is their (silencing) modus operandi. 
INEXTRICABLY, when will their reign of death and destruction come to an end??
STILL yet, it is imperative not to make distinctions between this and that victim. In other words, while it is easier to hide the death and destruction sowed through fraudulent "dirty deals" (akin to what happened in Haiti, simply, because it is harder to trace a straight line to this or that exact door), the fact remains that dead is dead. Effectively, "death by neglect and deceit" is a crime of the highest order, even though a "hit squad" wasn't dispatched. 
CONSEQUENTIALLY, the question becomes: Is there any real distinction between the endless list of "mysterious" deaths attributed to the goons discharged by "Hill & Bill ", and those who have piled up due to their fraudulent (mostly, "pay-for-play") operations ala Clinton, Inc.? 
 SIX of one, half a dozen of the other!
AND know this: Even though a change of guard is in place in the White House, the fact remains that the most criminally corrupt duo in American political history is still wrecking havoc – without any coinage extracted ala jail time, as well as complete financial restitution to their endless victims.
MOST significantly, the fact that America's hierarchy allows "Hill & Bill " – decade after decade – to pile up crime atop crime, defacto, the nation really can't lay claim to the mantle of leading the free world. After all, isn't this the way third world dictatorships and juntas are run? If not, why not?
MIND you, history proves that even empires (when no longer sustainable) fall, when they are no longer supportable. Sustainable. Indeed, there are always barbarians waiting at the gates for just such an inevitable (immoral-based) collapse!