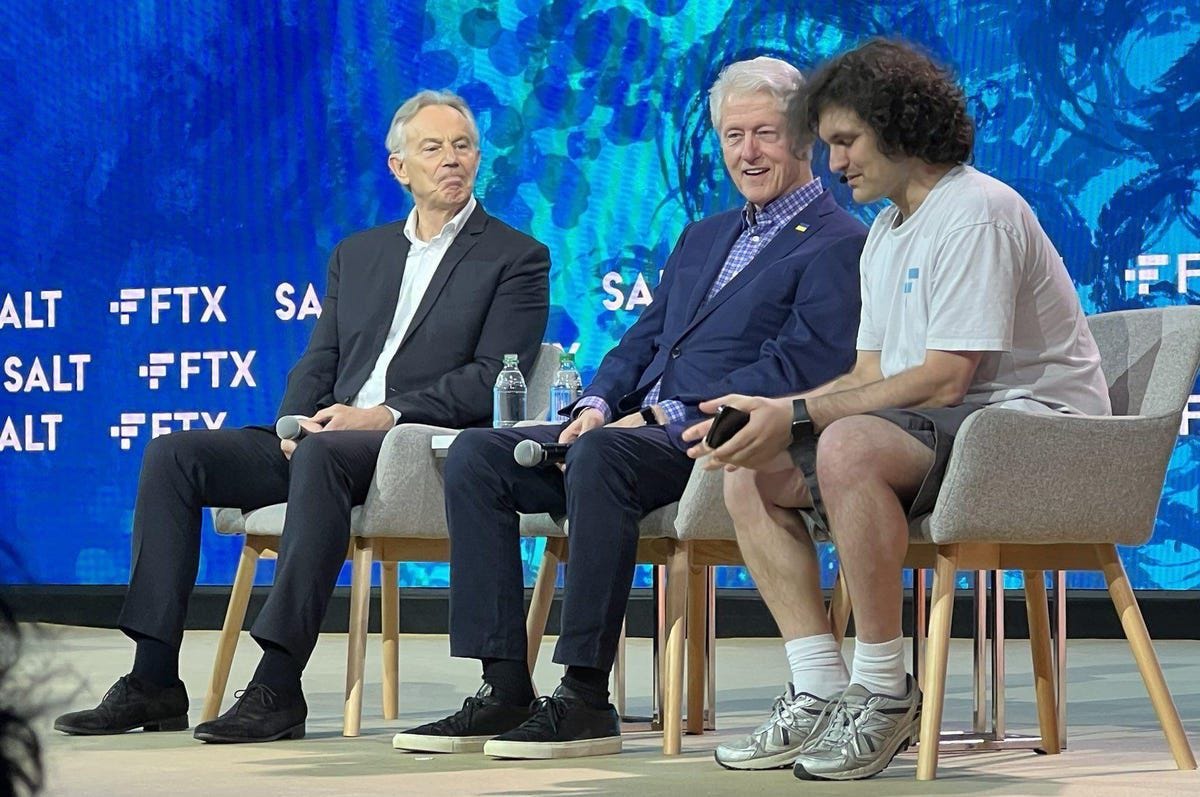 PREVIOUSLY, it was reported,
BEYOND indicting…this so-called whiz kid and the anti-American, criminal Demsters are in bed! Unholy matrimony.
BUT there's more. Much more.
STILL yet, before the rest of the filth is revealed, it must be stated: the fact that Sam Bankman-Fried was smart enough to go to MIT (mind you, a school which is near and dear to this heart), graduated with a physics degree, no less, is beyond enraging.
TO the nth degree, this criminally-inclined smartie knew precisely what havoc and hell his pyramid scheme would create for investors — but he didn't give a rat's behind! What he cared about was the access he enjoyed to high-level Demsters (inside and outside the Beltway), and those who would stroke his overblown ego and bow at his feet. Indeed, a highly dangerous and very intelligent narcissist. And, yes, his frat boy looks and shtick is wholly contrived to make him appear like a regular Joe Blow. As if.
ONTO the rest of the indictment,
♦  ♦  ♦  ♦  ♦
The $32 Billion Crypto Scammer
"The Next Warren Buffett." That's how Fortune magazine dubbed Sam Bankman-Fried, the crypto wunderkind who wore shorts, schlubby socks, and sneakers on stage with Bill Clinton and Tony Blair. But Bankman-Fried, worth an estimated $32 billion at his height, wouldn't just be a financial oracle like Buffett. He would also be the second-coming of George Soros: By the end of this midterm election cycle, he'd become the second largest donor to the Democratic Party.
Over the past few days, all of that has come spectacularly undone.
Now, Bankman-Fried looks, at best, like the original storyline for Michael Saylor of Microstrategy during the Dotcom bust. Or, more likely, like Elizabeth Holmes of Theranos infamy. Or, with increasing plausibility, like a less civic-minded Bernie Madoff.
Tens of thousands of people who invested their savings on various FTX exchanges have likely been wiped out. FTX employees have quit en masse. And SBF? According to reports, he's been taken into custody by Bahamian authorities after holing up at FTX HQ with his father.
Like everyone else in financial markets, I am glued to my screen.
If all you know about crypto are those Super Bowl ads with Matt Damon and Larry David hawking products and encouraging viewers to be "brave" and not miss out, the name Sam Bankman-Fried is probably new to you. Allow me to explain.
Born on the campus of Stanford University to two professors, he attended MIT, majored in physics, and from there joined Jane Street Capital, a noted employer of brilliant young programming talent on Wall Street. After three years, in 2017, Bankman-Fried was bitten by the crypto bug and founded Alameda Research, at the age of 25, to utilize the tools of traditional finance in the highly volatile crypto space.
As Alameda's trading volume grew, Bankman-Fried apparently recognized the opportunity to monetize this volume by launching his own exchange, FTX. It first launched in unregulated Hong Kong to evade a tighter U.S. regulatory environment. Then, in 2020, FTX moved to the equally unregulated Bahamas as the political climate in Hong Kong deteriorated. (With both of his parents being Stanford Law professors, Sam was well positioned to understand the legal gray areas in which he was operating. But offshore banking is standard practice in the crypto world, so those geographic choices attracted no additional scrutiny.)
As FTX took off with the pandemic-driven crypto boom, so did a carefully cultivated Cult of SBF. Only two years after FTX's founding, the company purchased naming rights to the NBA's Miami Heat stadium in a 19-year commitment of $135 million. Deals soon followed for college stadiums. A Mercedes Formula 1 team. National Baseball League umpire patches. Partnerships with Tom Brady and Gisele Bundchen.
In short order, profiles of the boy genius appeared everywhere. As cryptocurrencies soared in market value, SBF became the poster child for the libertarian ethos that crypto profits accrued to those most capable. He seemed to have access to the glitterati previously reserved for those with established connections within the intellectual elite.
As a critic of crypto and its marketing mania, I found myself unsure in my assessment of SBF. Unlike many of the other dubious characters in the space, he appeared to be genuinely trying to build something of note, and his provenance at MIT and a top-tier Wall Street shop was certainly credible. As crypto-related businesses around the globe tumbled in this year's selloff, he appeared to be taking a J.P. Morgan role—the banker at the center of the system, trying to acquire the broken pieces and assemble an empire that might successfully navigate the transition to a more regulated digital economy and marketplace. And he was doing it all in the name of future charity, as the popular face for a movement labeled "effective altruism."
The venture capitalists at Sequoia—the powerful investors behind Silicon Valley success stories like Google and PayPal—were certainly taken (or taken in) by him. Three months ago, one of the firm's partners, Michelle Bailhe, offered a breathless take in a firm-sponsored story about SBF:
"Of the exchanges that we had met and looked at, some of them had regulatory issues, some of them were already public," Bailhe wrote. "And then there was Sam." FTX, Sequoia felt, was "Goldilocks-perfect."
In colorful language, Sequoia partners reveled in their appreciation for his pitch for FTX.com as the center of all monetary transactions. In their own words:
"I LOVE THIS FOUNDER," typed one partner.

"I am a 10 out of 10," pinged another.

"YES!!!" exclaimed a third.
The firm has since deleted the article.
Sequoia wasn't alone. All told, SBF managed to raise over $1.4 billion dollars from various investors in two separate rounds of $1 billion and a prophetic "meme" round of $420.69 million dollars….continue reading….
---
BUT if more proof in the pudding is required,
♦  ♦  ♦  ♦  ♦
FTX, Ukraine and the Democrats: Did Jeffrey Epstein's island shutter, or just move? 
Sam Bankman-Fried, the former CEO of FTX at the center of one of the cryptocurrency industry's biggest scandals, had his own private jet and lived in the Bahamas in a multi-million dollar mansion with his closest circle of friends where they would allegedly have drug-fueled orgies, a report said. 
"There's a lot of weird shit that is slowly coming out in the fallout of #FTX going bankrupt," @gencostocks noted in a Nov. 11 Twitter thread.
Known as SBF, Bankman-Fried whose $37 million in donations to Democrats was topped only by George Soros for the 2022 election cycle is the son of leftists Joseph Bankman and Barbara Fried. Analysts have noted that Bankman has essentially made a career of eliminating the "cash economy" while Fried is a top Democrat Party operative.
The Ukrainian government had partnered with FTX to raise hundreds of millions of dollars to fund its war against Russia.
The Ukrainian government website detailing the partnership has been wiped from the Internet following FTX filing for bankruptcy, a report said.
Though the website, whose domain ends with an official ".gov.ua" from the Ukrainian government, that was used to promote the initiative and gather donations has been deleted, the last available archive of the webpage from October 26th revealed that $60 million had been raised. Other reports estimate the figure at $100 million, the War Room 
reported on Nov. 12
.
SBF's crypto exchanges FTX, FTX US and trading firm Alameda Research filed for bankruptcy on Friday. Alameda is headed by his girlfriend, Caroline Ellison, according to reports.
Subsequently, FTX was hit by an explained outflow of some $662 million in tokens. Ryne Miller, counsel of its U.S. division, called it "unauthorized transactions" on Twitter and said "FTX had begun moving digital assets into cold storage — wallets that are unconnected to the internet — to mitigate damage," Fortune reported.
"Bankman-Fried secretly transferred $10 billion of customer funds from FTX to his trading company Alameda Research, according Fortune citing a Reuters report, "One source it spoke to put the missing amount at about $1.7 billion, while another estimated it was between $1 billion and $2 billion."
Rumors that Bankman-Fried had been arrested on the tarmac at the Bahamas Airport made the rounds on Nov. 10 with evidence suggesting that his private jet had been grounded for 40 minutes while on the way to Miami from Nassau.
On Nov. 12, rumors pointed to Bankman-Fried having landed in Buenos Aires in the early hours of the day after Twitter users tracked the coordinates of his private jet using the flight tracking website ADS-B Exchange.
continue reading here….
LOCK HIS (& CO-CONSPIRATORS) CRIMINAL ASS UP AND THROW AWAY THE KEY!!
♦  ♦  ♦  ♦  ♦
{ADDENDUM: Bear uppermost in mind — To stifle the truth-telling found at this site, FB's censors have "zeroed-out" all of my articles via their "Boom and Ban" censors ala their ubiquitous "Community Standards" — as they hunt me up and down the internet like rabid dogs to their prey! No kidding. This is just some of FB's modus operandi, what is now deemed their "love notes" to yours truly: This URL goes against our Community Standards on spam:adinakutnicki.files.wordpress.com ACTIVITY
About your post Today at 4:34 PM: No one else can see your post.And so on and so forth. In fact, just recently, each article at my "parent site", ADINA KUTNICKI: A ZIONIST & CONSERVATIVE BLOG, had its FB registered shares go from the hundreds, with some up to the many thousands, to a big, fat ZERO. In other words, all my shares have gone down the rabbit hole. Just like that. Poof. Gone. As such, take it to the bank that each and every conservative voice which reaches a wide readership will, sooner than later, be CENSORED. MUTED.} MESSAGE FAILED: This message contains content that has been blocked by our security systems. If you think you're seeing this by mistake, please let us know. Yes, additional "proof-in-the pudding" as to why "BANNED: How Facebook Enables Militant Islamic Jihad" had to be written!}