By: Adina Kutnicki
By the time (Islamist) Reps Ilhan Omar and Rashida Tlaib burst onto the scene, in effect, storming the halls of Congress, former President Obama paved the way for the Muslim Brotherhood Mafia's entry into the highest recesses of power. In fact, the proofs are beyond manifest – many of which are housed within Adina Kutnicki – A Zionist & Conservative Blog.
Alas, as always, a picture is worth (more than) a thousand words.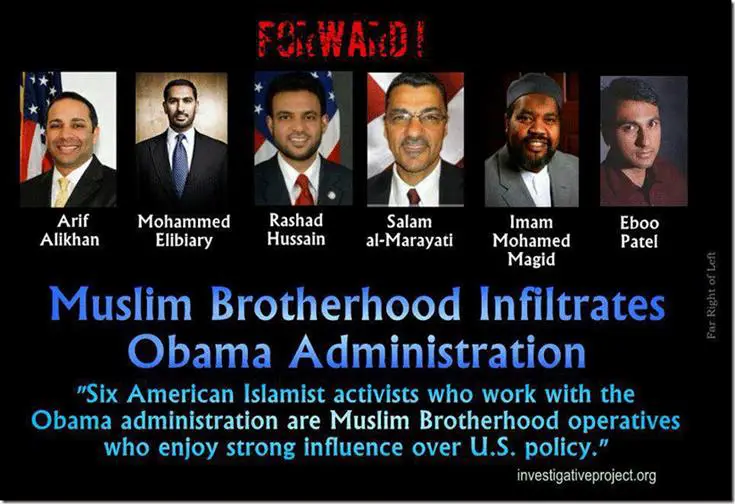 Not only that, when the words, the actual ! admission, come straight from the so-called horse's mouth, it behooves all Americans to buck up and pay rapt attention. As such, "Homeland Security's Mohammed Elibary: Caliphate Inevitable" tweet on June 13, 2013 – as analyzed within the CLARION Project – should have put the truth of the administration's plan in plain view – or not.
In this regard, proper due diligence requires evidentiary trails from as many patriotic megaphones as possible. Most especially, those whose expertise lies within Islamic Jihad must lead the way. Thus, let the following exhibits set the stage and underline the overarching charge-sheet(s). Indictment(s).
As laid out (at the onset of this site) in "Barack Hussein Obama Set To Formally Embrace Morsi, Egypt's Brotherhood Pick: How Did This Happen?", his footprints shed light on the whys and wherefores to President Mubarak's toppling – with the full-on assistance of a compliant U.S. administration. HINT: Mubarak refused to play ball with the Brotherhood. Even more so, in his first official trip to Cairo, June 4, 2009, former President Obama signaled to the Islamic world/the ummah the administration's strategic plans for re-shaping the Middle East – with absolute recognition of the knock-on effects on the U.S. ala the empowerment of the Brotherhood within the highest echelons. For further edification, the video linked below is more than instructive. However, it does require one's "listening ears" to be finely attuned to his jive-talk which is honed for western consumption, as opposed to the winks and nods meant for Muslim audiences.
Clear as a bell. Again, straight out of the horse's mouth.
As promised in the opening paragraph – now that the (provable) groundwork has been paved – it is time to link and hook into what is going down in Congress, that is, vis-à-vis the unprecedented infiltration and penetration of the Brotherhood Mafia into its recesses! Incontestably, it is an urgent imperative. Beyond.
To be sure, over the years and creep-by-creep, the Brotherhood has been boring into Congress under the terror wings of CAIR; its N. American propaganda arm. Resultant, the reporting within has reflected the same.
Consider the following bullet points as highlighted "open sesames" re the Brotherhood's initial boring into Congress. They are shored up here, here, here, and here – courtesy of access given by the Obama administration in particular and CAIR in specific.
Without further adieu, enter….(Islamist) Reps Ilan Omar and Rashida Tlaib and their tie-ins to CAIR and related Brotherhood Mafia front groups!
Hot on the heels of the mid-terms, what are the chances that the following Intel Report (for a privately held Homeland Security entity, which is Israel and U.S. aligned) ties straight into the topic at hand? Rhetorical. So much so, the aforementioned Congressional reps are front and center: "UPDATE TO: Trends/Adaptations In Jihadi Tactics: The Rashida Talib Nexus."
As excerpted…..
To said end, the morning of January 10, 2019, I presented an updated Intel policy paper at the very same secured facility in Tel Aviv which housed last year's conference. Among several areas of high concern, a segment of the presentation zeroed in on what is really……going down in "The Triangle"; AKA the Wadi Ara, AKA the Nahal Iron. An overview is below, including the nexus to US Congresswoman Rashida Tlaib! …..
Of course, this is not the forum to get into specific details and associated plots. Rather, it is the place to enlighten the public as to what is at stake, sans all the Allah-wash from western leaders, including Israel's. With this in mind, it is imperative to reveal a highlighted security concern from the conference. Incontestably, it links up the inextricable terror nexus between Israel and the US – vice versa.
In brief, many Americans have expressed concern about the newly elected Rashida Tlaib, an ethnic "Palestinian", who represents Michigan in Congress. Well, they don't know the half of it.
Effectively, I have been given permission to reveal this tidbit: when two of the assets associated with the conference (counter-terrorism and counter-Intel freelancers) were in Michigan (AKA Michiganstan) on another assignment, by accident, they "stumbled" upon a bombshell. It revolves around a clear connection between particular "Palestinian-Americans" (Jihadis-In-Suits) from clans in East Jerusalem, who happen to collaborate with clans in the Wadi Ara, who just happen to have access to Rashida Tlaib and her associates! This linkage is via what they termed the "Ramallah Connection" ala the AFRP, The American Federation of Ramallah, Palestine. Oh, what a tangled web of terror. Btw, her parental and close extended family live in a small, but highly active, Islamic-laced village, Beit Ur al-Foqa. It lies smack in Israel's Judean hills….
For those who are still "doubting Thomases'", Tlaib's own words are beyond convincing and indicting – as to where her loyalty lies and what her (and fellow Mohammedans) goals are for America. Read: Sharia Law!!
As sister Islamists, both are totally hooked into CAIR/Hamas – to reiterate, the Brotherhood Mafia's propaganda arm in N. America.
Oh, and pay special heed to the 5:02 mark at "Here Comes the (Jihadi) Bride: Access Denied!", in so far that it is another nail in the coffin of CAIR and their inextricable link with the two anti-American, anti-semitic Muslimas in Congress.
And more of the same…..
And the hits keep coming….
More specifically, several non-captured media sites are raising the highest decibel alarms, as to the incalculable threat, that is, if they (alongside their socialist sister, AKA "AOC", a main glue who holds their red-green alliance together) are not removed from office, let alone taken off key committees!
Aside from the "take-no-prisoners" Breitbart News (once again, laying out what's what, relative to the dangers at bay), along comes the Jerusalem Post, and they too are sounding a high-pitched alarm. It is not for nothing.
Still yet, it is via the blessed work of Laurie Cardoza-Moore, under the wings of  PROCLAIMING JUSTICE TO THE NATIONS (PJTN.org), that millions of patriots (be they Christians, Jews, or others) are hearing the clarion call.
As thousands of signatures flood in responding to PJTN's petition to demand Ilhan Omar's resignation from Congress, more disturbing and incriminating evidence continues to mount against her.
Because of your overwhelming response, we are gaining momentum and attention from national and international media in this ambitious campaign to remove her from office.
What Rep. Omar espouses is not garden-variety anti-Semitism, but full-on terrorism. Make no mistake: a sitting representative in the United States Congress is fundraising for entities who give money to terrorists. And not a little, but millions each year!
Here are the facts:
Omar recently spoke at a benefit dinner for Islamic Relief USA (IRUSA) in Tampa, a local chapter of Islamic Relief Worldwide (IRW). IRW has a history of funding terror organizations such as the Muslim Brotherhood and Hamas.
IRUSA is today the largest Islamic charity in the West, with branches in more than 20 countries. It has received at least $80 million of funding from Western governments and international bodies, including the United Nations and the European Union. In 2014, the United Arab Emirates designated IRW as a terrorist organization because of its links to the Muslim Brotherhood.
NEXT – On March 23, Omar will be a guest speaker at a Council on American-Islamic Relations (CAIR) fundraising event in Los Angeles.
Since 2013, PJTN has been involved in exposing CAIR's instructional materials being used to indoctrinate our children with propaganda in U.S. schools.
PJTN stands committed to fight the vile effects of anti-Semitism wherever they are found and that is why we are demanding Omar's resignation – effective immediately! Not only does she pose a threat to our Jewish and Christian Zionist communities, she is equally a threat to the national security of the U.S. and our trusted ally, Israel….continue here…..
Of course, everything which is charged against Omar is a mirror image towards Tlaib.
Most significantly, it is no wonder that those of us who understand what's what and what's at stake also pay heed to the Islamists within who spill the beans – even as their co-religionists hide within the underbelly of stealth jihad, thus, adhering to Islamic-sanctioned deceit ala taqiyya, kitman, tawriya, and muruna.
Trenchantly, Chicago's "native son", the highly educated Sheikh Omar Baloch, attests to what the end game is for Mohammedans – be they inside America, the west in toto, or within Islamic-ruled lands, respectively, Dar al-Harb or Dar al-Islam.
Most recently, this exchange tells the tale:
While Muslim clerics in the United States typically insist they submit to the U.S. Constitution, an Illinois cleric chastised Islamic relief organizations for not stating that an Islamic caliphate is the ultimate objective for Muslims.
Omar Baloch said many Islamic organizations are afraid of losing funding if they are too vocal about the establishment of a caliphate.
"We all have a higher goal … that is bigger than us, and that is the establishment of the caliphate," he said in a video uploaded to his YouTube channel Jan. 29 titled "Constructive Criticism of Islamic Relief Organizations," according to the Middle East Media Research Institute.
Jihad Watch Director Robert Spencer commented that in Sunni Islamic theology, the caliphate is "the sole legitimate government to which Muslims owe loyalty."
"It is ruled by a caliph, the military, political, and spiritual successor of Muhammad, and implements Islamic law, which is considered the non-negotiable law of Allah," he wrote.
"How loyal do you think Sheikh Omar Baloch is to the American system of non-establishment of a religion and a republican governmental system? That's right, not loyal at all. But to question him about this would be 'Islamophobic.'"
Baloch said Islamic relief organizations do not place enough emphasis on the establishment of an Islamic caliphate as the long-term solution to humanitarian problems.
"If you're not calling out the forces of injustice and you're not telling Muslims the long-term solution, the common dream of the Muslims, the common legacy of the Muslims, of uniting the Muslims, in using the relief organization fund platforms to do that, [you're deficient]," he said.
He was born in Chicago and is the scholar in residence at the Al-Furqaan Foundation in the Chicago suburb of Bolingbrook, Illinois, according to a Facebook page. He studied at Georgetown University, at Al-Azhar University in Egypt and at Jamia Thul Ahlul Hadith in Pakistan.
Baloch said Islamic relief organizations "have a very good platform to also explain the need for a caliphate."
"I really wish that my brothers and sisters that work in relief organizations would take this task seriously," he said.
Again and again, another pic is worth (more than) a thousand words – as Islam's (female) foxes in the Congressional hen-house are feted by CAIR: "An exuberant crowd celebrated the victories of the first female Muslim members of Congress, Reps. Ilhan Omar (D-MN) and Rashida Tlaib (D-MI), at a Jan. 10 reception hosted by the national office of the Council on American-Islamic Relations (CAIR) at Arlington, VA's Hyatt Crystal City Hotel. Fellow Muslim Rep. André Carson (D-IN), in office since 2008, was also in attendance."
Questions, anyone? To be continued…..