EVERY so often, as if to remind that there is a light at the end of the bleakest tunnel, a silver lining glimmers through. This is one of those times. But before we bring out the party hats, let's take (realistic) stock.
MANY (deluded) Americans – western citizens at large – won't "get it" until they feel terrorized to the degree that they say: ENOUGH (maspik…מספיק)! Enough with the political correctness; enough with the rivers of denial that Islam is compatible with western life; enough with the dangerous mantra that Islam is a "religion of peace"; enough that all cultures and religions are equal; and so on and so forth ad nauseam. Besides, take pity on those of us who toil in the jihadi muck, and whose ears are bleeding from said mendacious hogwash. Heart burn alike.
IN other words, until they understand that they are endangered, to the degree that their lives are at the "mercy" of Islam's barbarians in their midst, well, non-Muslim citizens will gift the general Muslim community the benefit of the doubt. My heavens, of course, they don't want to appear "racist", THAT would be too much to (mentally) bear! GRAVE error. Get over it.
NOT only that, it becomes much easier to disabuse of said touchy feely poppycock, especially when living among the results of their bloody carnage on a continuous basis in Israel! Indeed, the embedded link was written 2 weeks prior to the jihadi slaughter in Redlands. "Prophetic." In effect, Americans (westerners) must get into the skin of Israeli Zionists to toughen up. That's just the way it is. Reality-based thinking. It is your lives or theirs. Simple as that.
(A pro-Hamas protest in front of the White House in Washington, D.C. in Aug. 2014, with CAIR as its sponsor!)
MOVING right along to the aforementioned silver lining….
READERS, how many times, how many ways, has this site outed CAIR, the propaganda arm of the Muslim Brotherhood Mafia?
CAIR OUTINGS:
NOT only that, other than at alternative media (read: truth-tellers) sites like this one, no one (other than via certain "guest" appearances on FOX) at the MSM (in print, online, or tv) dares to admit that CAIR is the chief enabler of jihadi terror in America! Alas, the times they are a changin', and it is due to the explosive impact of ISIS's rampage in Redlands.
IN July 2014, the following was written: "ISIS Terrorists Tied To CAIR: Siraj Wahhaj, Brooklyn Imam, Deeply Embedded". However, others go back to the inception of this site in July 2012, but the most recent are linked below.
"Brotherhood Mafia's CAIR: AR-15 Rifle, Its Biblical Name, "Inciting." Tennessee Sheriff Targeted Alike."  
"CAIR Shields Islamic Terror Compounds & FEDS Backbench: Tennessee Pastor's Trial A Tipping Point. How So?"
"Congress's Islamic Reps Advance CAIR's Dictates: Silencing Free Speech. Iraqi Nun Targeted Too: The Tie-Ins."
"Brotherhood's CAIR Stripped Naked, Castrated On FOX News: Brooke Goldstein, Human Rights Attorney, Took CAIR's (Chicago) Propagandist To The Woodshed!"
The bullet list goes on and on and on….By the by, one of this site's key contacts – who agreed to be "outed" at this site as a close associate – wrote the investigative book on CAIR, that which led key members of Congress and court officials to peer into the underbelly of CAIR, and all its hydras thereof. Just sayin'….


Front cover of Muslim Mafia

Author
Paul David Gaubatz
IN this regard, let this investigative journalist give a shout out to the New York Post (which also happens to be the "paper of record" from this investigative journalist's hometown, until moving to Israel in 2008…) for allowing some direly needed disinfectant to clear the air. 
As news of the San Bernardino jihadist shootings blared on airport TVs, I spotted a TSA monitor flashing the now ubiquitous message: ''If you SEE something, SAY something."
It's one of the emptiest slogans in modern American life.
While the White House pays lip service to homeland security vigilance, it consorts with Islamic terror sympathizers who attack vigilant citizens and law enforcement officers at every turn.
Yes, I'm looking at you, Council on American-Islamic Relations.
After seeing CAIR's bizarre press conference with the San Bernardino jihadists' family members, here's what I'd like to say to them:
You're not to be trusted. You put damage control above border control and jihad control. You're enemies of our national security and sovereignty.
Reminder: The feds designated CAIR an unindicted terror co-conspirator in 2007 in the prosecution of the Holy Land Foundation and others for providing support to Hamas jihadists. Over the alleged objections of Dallas-area federal prosecutors, the Obama Justice Department's senior political appointees declined to press terror-financing charges against CAIR co-founder Omar Ahmad.
Instead, the administration has rolled out the red carpet for CAIR officials "hundreds" of times since 2009 on a "range of issues."
This is the same group of "Islamophobia!"-shrieking grievance grifters that cooked up the Ahmed "Clock Boy" Mohamed brouhaha in Texas, where the city of Irving and Irving Independent School District is now being sued for $15 million after raising alarms over the teen's low-tech media stunt. Obama hailed Mohamed before the boy jetted off to Qatar to cash in on a Muslim Brotherhood-linked educational scholarship.
This is the same group of litigious radicals who unsuccessfully sued a Florida gun shop owner for declaring he would refuse to sell weapons to "anyone who is either directly or indirectly associated with terrorism in any way." A judge ruled this week that "there are simply no facts grounding the assertion that Plaintiff (CAIR) and/or one of its constituents will be harmed." CAIR is appealing, of course.
This is the same group of treacherous thugs that squelched critics of Somalia-based jihad group al-Shabab in Minnesota. CAIR smeared whistleblowing Muslims who participated in an educational Minneapolis forum on al-Shabab terrorism and youth gangs as "anti-Muslim." In 2013, the uncle of a missing young Muslim radical testified before Congress about CAIR's efforts to pressure families to impede FBI investigations.
''CAIR held meetings for some members of the community and told them not to talk to the FBI," Abdirizak Bihi told lawmakers, "which was a slap in the face for the Somali American Muslim mothers who were knocking on doors day and night with pictures of their missing children and asking for the community to talk to law enforcement about what they know of the missing kids."
This is the same group of free speech-trampling zealots that bombarded private citizen, Zaba Davis, with harassing subpoenas over her opposition to a planned construction project by the Muslim Community Association and Michigan Islamic Academy. A federal judge called CAIR's anti-free speech witch hunt "chilling" and ordered the outfit to pay $9,000 in legal fees.
This is the same manipulative group of controversy-manufacturing instigators who tried to sue "John Does" — innocent American citizens who alerted the authorities about their security concerns — in 2007 after a group of imams falsely claimed they were discriminated against on a Minneapolis flight.
And this is the same dangerous group of jihad enablers that filed an obstructionist lawsuit to block vigilant Immigration and Customs Enforcement agents from quizzing Muslim border-crossers about their ties to jihadist martyrs and radical mosques. The anti-racial profiling" lawsuit has dragged on for three years.
Little wonder, then, that in this politically correct climate of intimidation, a neighbor of the San Bernardino jihadists told local media he'd "noticed a half-dozen Middle Eastern men in the area in recent weeks, but decided not to report anything since he did not wish to racially profile those people."
That's the CAIR effect: See something, do nothing. Silence is complicity.
HEY, New York Post….welcome aboard! One down…countless others to go…
CONSEQUENTIALLY, this is what CAIR has always been, still yet, the captured media played deaf, dumb and blind – possum-like.
The Council on American-Islamic Relations (CAIR) has been connected to the terrorist organization Hamas, a federal judge said in a July 2009 ruling unsealed last week.
"The government has produced ample evidence to establish the associations of CAIR, ISNA, NAIT, with NAIT, the Islamic Association for Palestine, and with Hamas," U.S. District Court Judge Jorge Solis said in the July 1, 2009, ruling.
CAIR, the Islamic Society of North America (ISNA) and the North American Islamic Trust (NAIT) had protested to Solis that they were incorrectly named as unindicted co-conspirators in the 2008 trial of the Holy Land Foundation for Relief and Development. Among the allegations, HLF was accused of having provided more than $12 million to Hamas. After a 2007 mistrial, five former HLF officials convictedon 108 counts, ranging from money laundering to conspiring to provide material support to terrorists.
Following the trial, CAIR, ISNA, and NAIT have argued that their inclusion on the list injured their standing in the community, and their image. They wanted their ties to Hamas removed from the trial records and the list sealed.
Solis agreed the list should not have been made public, saying that doing so violated the Fifth Amendment rights of the listed individuals and organizations. Criticizing the decision to publish the list, the judge explained that CAIR has been subjected to "annoyance, ridicule, scorn, and a loss of reputation in the community." (see the IPTs earlier coverage of the decision to publish the list here).
However, Solis refused to remove references to CAIR and the other groups from the trial record. That's because the government introduced extensive evidence tying CAIR to Hamas. "The public," he wrote, "may make its own judgment from evidence presented at trial."
Solis filed his July 2009 ruling under seal, and until recently, it was unclear what information was actually contained in the order…continue reading the detailed info from 2010…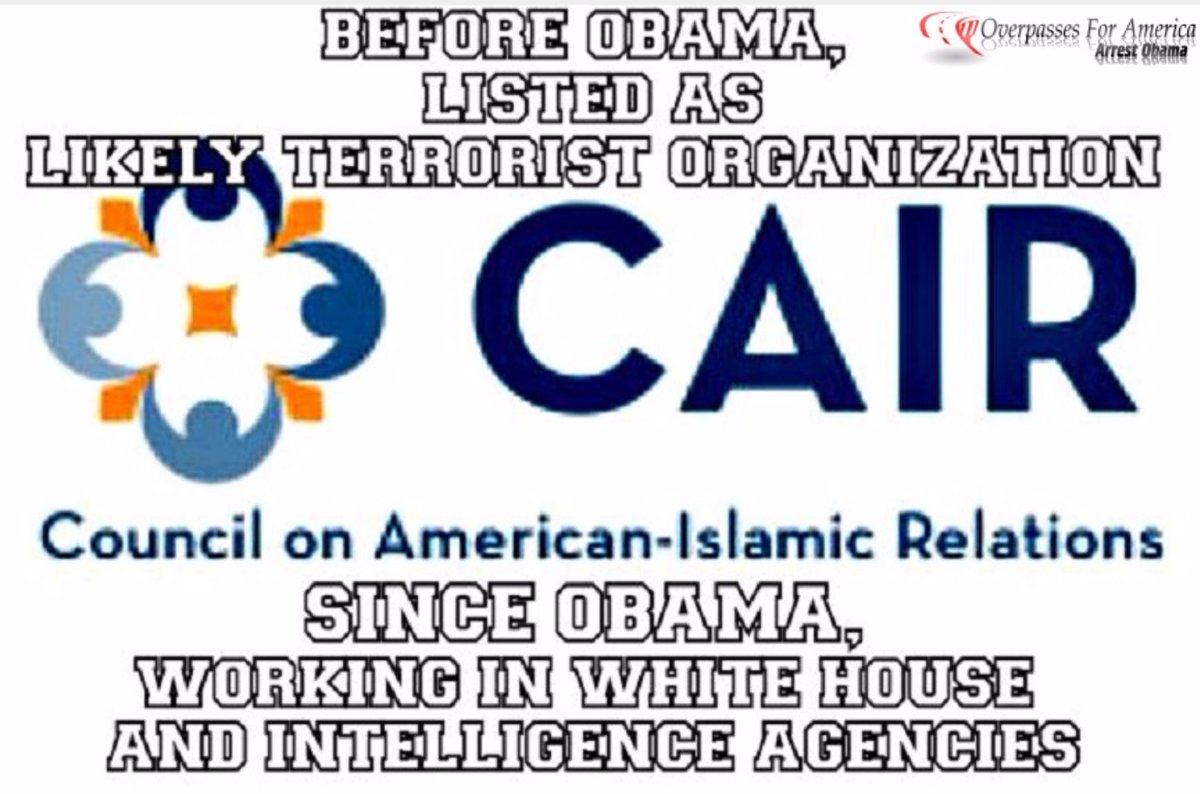 READERS, take comfort in the knowledge that this American-Israeli investigative journalist continuously gifts to readers – and it doesn't have to be the holiday season – the truths gleaned from being an expert steeped in the Muslim Brotherhood Mafia, come what may.
BTW, Happy Chanukah to fellow Jews too, and a Merry Christmas to Christians all over the world! 
{re-blogged at The Homeland Security Network}