HOW many ways does it need to be proven that HUSSEIN Obama is doing the bidding of the Brotherhood Mafia, even as he aids and abets Iran's mullahs? Mind you, one alliance does not cancel out the other, it is just the way it is for an avowed Islamist. Not only that, aside from his obsession to race Iran to WMD super power status, American reps are tripping over themselves to secure deals with Iran's oil industry, knowing full well that Iran is off the (sanctions) hook.
SO it is under this anti-American worldview which readers must judge the Islamist-in-Chief's support of ISIS, which is part and parcel of the Brotherhood Mafia! 
CONSIDER the facts:
HUSSEIN Obama has irrefutably tasked the DHS (and all related FED agencies) to 'stand down' vis-a-vis the threat from the Brotherhood Mafia and its ISIS offshoot. No doubt.
YET, the core question becomes: where is DHS's Director, Jeh Johnson, in all of this, as was "Mama Janet"? 
IT was noted in Feb. 2015:
THE amount of (Islamist) damage accrued under HUSSEIN Obama's DHS (starting with "Mama Janet") is beyond measure. Incalculable.
BUT when DHS's Jeh Johnson entered the scene, well, only the willfully blind couldn't discern where his alliances lie. And while there exists a veritable smorgasbord of proofs housed in these pages, suffice it to say that the following link sums up Johnson's treachery: DHS lies/hides terrorist infiltration…what is he up to? Folks, don't dare be fooled by his fancy pedigree!
INTRINSICALLY, with the meteoric rise of ISIS (and its aligned terror arms…six of one, half a dozen of another) it became a high priority to follow their western footprints, wherever they lead.
SO as DHS helps to ferry them into the U.S. – while they pretend they are securing the homeland – the fact remains that this investigative journalist has been exposing Somalis in America, even those who top the FBI's most wanted list. Yes, other tentacled groups have been highlighted, basically, hiding in plain sight. Said threats should not be news to many readers.
TO wit, how can it be that well-informed folks express shock that another ! Somali "refugee" (living in Minnesota) has been charged with aiding and abetting ISIS? In fact, the opposite should be the case…
AND so on and so forth…but it is not as if the following 'news' should shock anyone, least of all HUSSEIN Obama's henchpeople!
The Islamic State terror group is operating a camp in the northern Mexican state of Chihuahua, just eight miles from the U.S. border, Judicial Watch reported Tuesday.
Citing sources that include a "Mexican Army field grade officer and a Mexican Federal Police Inspector," the conservative watchdog group reported that the Islamic State, also known as ISIS or ISIL, is organizing only a few miles from El Paso, Texas, in the Anapra neighborhood of Juárez and in Puerto Palomas.
Judicial Watch sources said that "coyotes" working for the notorious Juarez Cartel are smuggling Islamic State terrorists across the U.S. border between the New Mexico cities of Santa Teresa and Sunland Park, as well as "through the porous border between Acala and Fort Hancock, Texas."
"These specific areas were targeted for exploitation by ISIS because of their understaffed municipal and county police forces, and the relative safe-havens the areas provide for the unchecked large-scale drug smuggling that was already ongoing,"Judicial Watch reported.
Mexican intelligence sources say the Islamic State intends to exploit the railways and airport facilities in the vicinity of Santa Teresa, New Mexico.
SIMILARLY, re the complicity of HUSSEIN Obama's DHS and its purposeful abrogation of duty, the following offers additional supportive and indicting evidence:
Homeland Security Secretary Jeh Johnson denied the reports at the time. He told CNN, "Let's not unduly create fear and anxiety in the public by passing on speculation and rumor."
AND with the above backgrounder at your fingertips, the linkage between HUSSEIN Obama's refusal to assist Egypt's struggle against ISIS veers into sharper relief. 
IN the main, Egypt's President is in a life and death struggle against the Brotherhood Mafia and its entire hydra-like apparatus. Therefore, their implantation within neighboring Libya is a top danger. Taken a step further, let's recap some footprints and their links. Full circle.
BACK in March 2011, HUSSEIN Obama entered into an illegal war in Libya. This was not a random intervention. Its basis lied in the plan to empower the Brotherhood Mafia (ISIS alike) across the Mid East and beyond. Moreover, as a matter of record, his Brotherhood pal, Mohamed Morsi, was installed as President of Egypt a year later in June 2012, until he was forcibly removed in July 2013. Mind you, back in 2009, HUSSEIN Obama went on an anti-American apology tour and feted the Brotherhood Mafia at Cairo University. Again, not for nothing.
READERS, let's also agree that HUSSEIN Obama's machinations, relative to the "Arab Spring", started the explosions….got the ball of fire going. Yes, he signaled to his brothers in the Muslim Brotherhood Mafia – during his "outreach" tour in Cairo (2009) – that they should get ready…get set…to blow! And blow they did. Since then, they haven't taken a break from jihad. Is this happenstance, coincidental, accidental…in a pig's eye.
The Obama administration conducted an assessment of the Muslim Brotherhood in 2010 and 2011, beginning even before the events known as the "Arab Spring" erupted in Tunisia and in Egypt. 
IN this regard, the 'news' re the Islamist-in-Chief's 'F U' to Egypt's leader makes total sense, as they prepare to launch a large-scale assault against ISIS in Libya! Again, wherefore art thou HUSSEIN Obama? Rhetorical.
YET, for additional hammer blows, just reacquaint yourselves with the foreign (and domestic) Brotherhood leaders who confabbed at a Feb. 2015 White House conference! Wow.
IT is intrinsic to take very seriously the contents within this site, especially when Brotherhood dots are connected. Simply put, if prima facie evidence is required to trust and verify, well, just think back to a recent commentary, and relate its prognostication to the recent attack in Garland, Texas at the cartoon-fest, 'courtesy' of ISIS!
AS stated on April 16, 2015 in 'ISIS Hyper-Alert: Narco-Terrorists Smuggle ISIS into Texas', the following bares rapt attention:
CONCLUSIVELY, this investigative journalist's analysis assesses: although ISIS (and assorted jihadi tentacles) is spread throughout America, let's agree that Texas, specifically, El Paso, is a front-line arena. Various border communities alike. To wit, the stands taken (or not) at these communities will have a direct psychological (cascading) effect, rebounding to both fellow Americans and Islamists at large.
THEREFORE, akin to any pre-war scenario, there are preparations to be made. Most importantly, understand that the threat is not only real but impending. Not only that, but the U.S. power grid is subdivided into 3 sectors and Texas is smack in the middle of the western interconnection.
NOW, just suppose that Mexican drug cartels (highly familiar with America's southern landscape and adept at certain "activities") are operating both as coyotes AND saboteurs/scouts for ISIS? Hmm. As such, stockpile as much ammunition and supplies as possible, and be ready to defend yourselves and loved ones. At all costs.
TRUTHFULLY, the question isn't: how could ISIS set up training camps right under the eyes of America's security arms? Rather, it is: how could they not, being that HUSSEIN Obama has ordered DHS (Border Patrol, the FBI, even the CIA) to stand down!
LEST any American foolishly believes that DHS's cavalry (and agencies directly under their domain) will still come to their rescue, well, they deserve what they get. After all, how many warnings does it take to sink in what's what?
ONTO ISIS's attack in Garland… 
Garland police spokesman Joe Harn said it was not immediately clear whether the shooting was connected to the event inside, a contest hosted by the New York-based American Freedom Defense Initiative that would award $10,000 for the best cartoon depicting the Prophet Muhammad.
Two men drove up to the conference center in the city of Garland, near Dallas, and began shooting at a security guard, police said on Sunday.
The Dallas Morning News reported that critics of the Mohammad Art Exhibit and Contest, sponsored by a group called the American Freedom Defense Initiative, had condemned the event as an attack on Islam, but that organizers had said they were merely exercising their right of free expression.
In January, gunmen killed 12 people in the Paris offices of French satirical magazine Charlie Hebdo in what it said was revenge for its cartoons.
Texas Gov. Greg Abbott said state officials are investigating, and Dallas FBI spokeswoman Katherine Chaumont said that agency is providing investigative and bomb technician assistance.
The Curtis Culwell Center, a school-district owned public events space where the Texas event was held, was evacuated after the shooting, as were some surrounding businesses.
The identities of the shooters has yet to be confirmed, but the SITE Intelligence Group reported that an Islamic State (IS) fighter claimed on Twitter that the shooting was carried out by two pro-IS individuals.
Police helicopters circled overhead as bomb squads worked on the car. Harn said the bodies of the gunmen, who had not yet been identified, were not immediately taken from the scene because they were too close to the car.
"They Thought They Was Safe In Texas From The Soldiers of The Islamic State," added the tweet. About 200 people were inside the event, said local police spokesperson Joe Harn.
AS reported by the media, local SWAT intervened and killed the terrorists. Guaranteed, the local factor is hardly an incidental matter. If anything, whatever pre-warnings the FEDS had, rest assured, they were not shared with local agencies. Under wraps. Readers would do well to trust this assessment, one borne of experience and much more. 
One gunman, known to the FBI, sent out tweets prior to the attack, including one with the hashtag, #TexasAttack, US reports say.
AS always, not only were said Islamic terrorists KNOWN to the FBI, but they blared their intent re Texas on social media! Again, why did the FEDS allow these KNOWN terrorists to operate on U.S. turf?
ABSOLUTELY, in a familiar 'stand down' pattern – re intel they had acquired two years prior to Boston's blow up through interviews of said terrorists – they refused to scoop them up! The core question is: why? 
INDEED, Islamists and their apologists whip out said nonsense in order to 'calm' and deflect from what is really going on. In other words, on cue, the 'lone wolf' scenario is meant to suggest that no one, even from within the Muslim community, can 'predict' what a 'crazy' person is going to do at any given moment. Uh huh…
MOST significantly, careful preparation mandates 'sleeper cells' , called upon when ordered to attack. And it is nary a factor, whether or not the actual shooters/bombers are newly arrived via narco-smugglers or buried for months/years on end. 
THE fact remains that an Islamic terror cell (ISIS or another) can be pressed into service at any given time. Incontestably, the cartoon-fest was ISIS's opening shot in Texas.
MAKE no mistake, they are just revving up – cartoon-fests beside the point!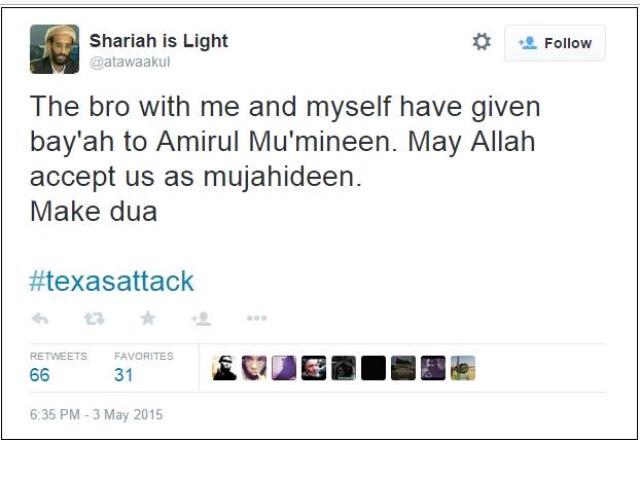 UPDATE: DEBKAfile INTELLIGENCE confirms this investigative journalist's overall assessment of the ISIS attack in Garland; the sleeper cell aspect; the FEDS failure to scoop them up, and it being the opening shot of much more to come!