AS always, underlying the symbiotic nexus between Islamists and the fascist-left is zero-tolerance for those who dare to defy their dictates – totalitarian-like, it is their way…or else!! Said truth is revealed through an ever-increasing level of threats and concomitant violence. 
CONSIDER: Throughout the run-up to the 2018 mid-term elections, Linda Sarsour, the Muslim Mafia chick from the Brooklyn 'hood (btw, she threatened Jihad against Trump and his supporters, while cloaking herself in the American flag), has been warning Americans neither to defy Islam's march on the nation, nor refuse to hue to socialist policies, otherwise, they will suffer the consequences – whatever they may be. Pray tell, what could a vociferous, well-connected – to the highest levels of the Brotherhood Mafia and leftist power circles – Islamist mean by that?? It's a more than fair question.    
ALL of which binds the linkage between Islam's Blasphemy laws to the fascist-left's hammer blows against free speech. Full circle.
EFFECTIVELY, when Americans in specific and westerners in general are unable to criticize "prophet" Mohammed – or, for that matter, the underpinnings of Islam, that is, Sharia Law – well, how is that not censorship of free speech? In reality, just think back to the murderous Jihad plotted against Pamela Geller (and too many others) in 2015, for the "crime" of sponsoring a cartoon contest of Mohammed! Trenchantly, did you ever dare to think that such anti-freedom outrages would befall America, the heretofore land of the free and the home of the brave? Not only that, did you know that Eric Holder, HUSSEIN Obama's (legal) henchman, stealthfully, attempted to introduce Blasphemy laws into the American legal system? If not, now you do. Is that not an absolute violation of the Constitution's underpinnings? 
IN this regard, and in a deliberate and assiduous manner, America's fascist-left alike are laser-focused towards silencing free speech. This is no longer up for debate. As it stands, their tactics run the gamut. But most dangerously and ominously, violence through tactics of intimidation is their go-to modus operandi. Inexorably, the very fact that the domestic terror group, the "New Black Panthers" (part and parcel of Black Lives Matter), is confident and brazen enough to insert themselves – by the barrel of a gun, no less – into the Gubernatorial campaign for Georgia's far left candidate, Stacey Abrams (mind you, as they did during HUSSEIN Obama's campaigns), attests to the stepped-up dangers at bay via the "normalization" of junta-like violence.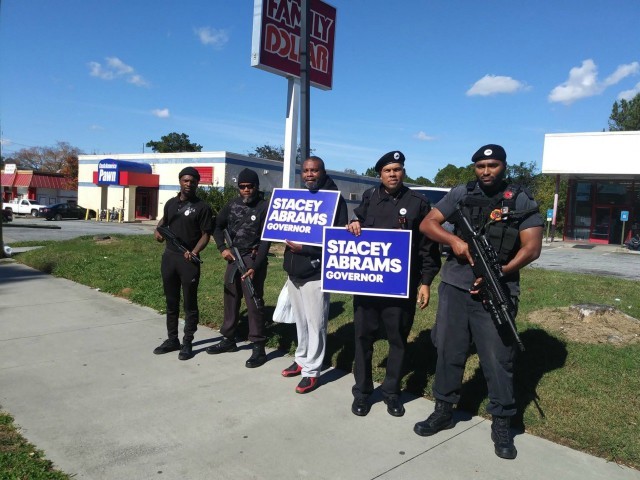 INDISPUTABLY, the proofs are beyond manifest. They can be evidenced here, here, here, here, and so on and so forth. 
RESULTANT, as the mid-term elections come to a head, few should be shocked….shocked….that "handsy, creepy uncle" Joe Biden is threatening violence, if Demsters fail to impose their will. Yes, major elected and non-elected officials are cheering him on. Mind you, the aforementioned are in league with Hussein Obama – you know,"if they bring a knife to a fight, you should bring a gun" violent rhetoric. Still, if you can withstand it, just imagine the captured media's 24/7 cycle of hateful, venomous coverage, that is, if Trump had issued such a violent threat. Hmm. Double standard, anyone?
With the critical midterm elections taking place on Tuesday, it appears Democrats are starting to panic.
In recent weeks, Democrats and many in the mainstream media have largely blamed President Donald Trump's "rhetoric" for incivility across the country. Yet, several prominent Democrats have made incendiary — and sometimes violent — comments about their Republican counterparts.
On Wednesday, New York Democratic candidate Alexandria Ocasio-Cortez sent out a bizarre email demanding Democrats "push back" against Republicans and Trump, who she referred to as "cold-hearted monsters."
In a very lengthy email, the self-described socialist vowed to protect voters from "white supremacist forces" that she claims are terrorizing Americans under Trump.
"Six days from now, we can defeat the brutal white supremacist forces of anti-Semitism, anti-immigrant nativism, and racism. We can hold accountable the cold-hearted monsters who have repeatedly attacked our health care," the email stated.
"We can send a message to the bigots and billionaires that this country belongs to all of us. We can win if we show up on November 6. We must end Republican control of Congress and begin to reclaim our nation," it added.
Later in the email, Ocasio-Cortez argued it's time to push back against white supremacists, bigots, and Islamophobes, which could be a reference to Trump.
"Our chance to push back against white supremacist forces across our nation, against the xenophobes who are militarizing the border, against the bigots who seek to erase our transgender families, against the apologists for sexual assault and the Islamophobes who sow hate to divide us," the email stated.
Ocasio-Cortez sending out arguably one of the most bizarre political emails ever comes as several other prominent Democrats have made controversial comments.
On Thursday, former Vice President Joe Biden suggested during a campaign rally that a union boss should beat up a GOP lawmaker.
While stumping for struggling Democratic Sen. Heidi Heitkamp of North Dakota, Biden appeared to encourage a union president to use physical violence against GOP Rep. Kevin Cramer.
EVEN so, per more proof of the same (silencing) nexus: although the FBI just arrested another ! Mohammedan (this time, Ahmad Suhad Ahmad in Tucson, Arizona) for teaching fellow Islamists to build car bombs, alas, Americans /westerners are "encouraged" (by Islamists and their fascist-left counterparts/apologists) to stay mute, regarding the direct linkage between the violent underpinnings of Islam to Jihad. After all, that would be Islamophobic!
SIMILARLY, those who disagree with the fascist-left about anything, namely, their refusal to toe the Gay Mafia's agenda, or, more broadly, eschew the socialist-Marxist ideology – heaven forfend, if they "cling" to their Constitutional right to (legally)  bear arms – hell hath no fury like a fascist-leftist scorned!
INDEED, this is war – like it or not. Inevitably, their goal is to "Bring Down America", as yours truly analyzed at American Thinker in April 2013. Deal with it.