FROM the get go, Americans (non-Muslims at large) must urgently inquire: what will it take for Islam's western apologists to finally wake up and admit, yes, regardless of this and that, Islam's soldiers for Allah are on the warpath and they have ALL infidels in their cross hairs, even those (including, the gay community) who "sympathize" with Muslims and their incessant whining and demands. Agreed?
MOST inherently, time and again, this site alerted readers: mirror-image militant Islamic jihad attacks, akin to those which unceasingly plague Israel, will catapult into America (the rest of the west) sooner than later. After all, aside from their Islamic internecine bloodying for hegemony, Israel is their "laboratory" and kill-zone for western slaughter. This is the case for various reasons, but mostly because it is, rightfully or wrongly, viewed as America's Mid East outpost. Indeed, perception is everything.
RESULTANT, most recently, the following was forewarned in May 2016: "Israel, Laboratory For Jihadi Terror: Knife-Jihad Jumps To America." You may want to take a peek, especially in wake of the latest in Florida.
INDEED, Tel Aviv just suffered another slaughter at a happening and upscale eatery (as an aside, this investigative journalist has been known to "meet" certain contacts at this same venue), and it surely won't be its last. Incidentally, ISIS was deeply in the mix!
NOT to get too far off course via another interesting factoid, the media – for the most part, as well as the Feds and local police agencies – almost immediately identified the attack in Orlando as an act of terror. Why is this even remotely noteworthy?
WELL, truth dare be told, every time acts of jihad erupt on American soil they are reflexively "misidentified", that is, until they can no longer be denied! In fact, two recent cases in point spring to mind: San Bernardino's shooting jihad and U of C Merced's knife-jihad were both "miss-directed" away from acts of Islamic slaughter!
ONE has to wonder: why the diff? Well, let's just say that the gay community is considered one of Obama Inc.'s "protected" groups, and this time their interests trumped a "lone" jihadi soldier. But never mind, HUSSEIN Obama made sure NOT to connect Islam, the truthful and inherent concept of jihad, nor the calls for slaughter of gays in Islam! In effect, the media reported on its "terror" aspect, but the omerta re the aforementioned is still in place.
OMINOUSLY, as mentioned repeatedly, DHS is in the pocket of the Muslim Brotherhood Mafia, and the following is more proof of the same:
The Orlando nightclub terrorist who pledged allegiance to ISIS worked almost a decade for a major Department of Homeland Security contractor, raising alarms that ISIS sympathizers and agents have infiltrated the federal agency set up after 9/11 to combat terrorists.
Officials say Omar Mir Seddique Mateen, an Afghan-American who held two firearms licenses and a security officer license, was employed by the security firm G4S Secure Solutions USA Inc. since Sept. 10, 2007. The Jupiter, Fla.-based company merged with the Wackenhut Corp. after 9/11 and assumed federal contracts.
"G4S supports the U.S. Department of Homeland Security, Customs and Border Protection (CPB), with its operations at the U.S. ­ Mexico border and with U.S. Immigration and Customs Enforcement (ICE) to transport illegal immigrants in selected urban areas," the company says in a brochure, titled "Providing Manpower Solutions for Government Services."
The DHS contract with G4S is worth
more than $234 million
. The contract states that one of the "performance requirements" is helping identify "suspected terrorists" trying to enter the U.S.
The security contractor also provides security guards and other security services for "90 percent of U.S. nuclear facilities."
G-d have mercy.
BUT back to Florida….
AS a backgrounder, the Pulse nightclub shooter, OMAR MIR SEDDIQUE MATEEN, is the offspring of Afghani parents. This is not inconsequential, albeit, paradoxical. So aside from Islam's fatwa to kill gays, one has to ponder: is it reasonable to assume that he had no knowledge of Afghani culture, that which embraces all manner of homosexuality, including pedophilia? What about the "dancing boys"?
THUS, his rampage in a gay establishment involves many moving pieces, so to speak, including an allegiance to ISIS.
Omar Mateen – the lone gunman who opened fire inside a gay Orlando nightclub, killing 50 in U.S. history's deadliest shooting – called 911 moments before the attack and pledged his allegiance to Islamic State, a federal law enforcement official said, confirming earlier reports.
Federal investigators believe the selfie photos of Mateen taken from his MySpace page are of him but said the investigation was still in its early stages.
Mateen, 29, of Port St. Lucie, was killed after a shootout with Orlando police. He was armed with a pistol and assault rifle in the attack that also left 53 injured……
U.S. investigators are operating under a theory that the Orlando nightclub mass shooting was inspired by Islamic State, the top Democrat on the House Intelligence Committee said Sunday.
The similarities between the November attack on the Bataclan nightclub in Paris and that the shooter who appeared to target a gay dance club during the Muslim month of Ramadan "indicates an ISIS-inspired act of terrorism," Rep. Adam Schiff, D-Burbank, said in a statement.
Intelligence officers are combing through terrorism databases to see if there are any known links between alleged shooter and a terrorist group, Schiff said.
There haven't been signs so far that Islamic State leaders helped orchestrate the plot, he said. "Whether this attack was ISIS-directed remains to be determined," he said….continue reading….
OH no, not again…."Officials said the Islamist killer was on their radar", akin to the same claim made in Nov. 15: U of C Merced's jihadi killer was also on their radar. How special…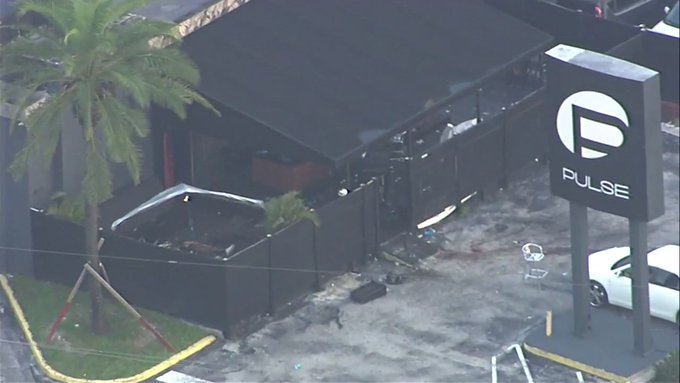 (Police said via Twitter that a noise heard near the shooting site was a "controlled explosion." No other details were provided.)
NOT to be lost in this site's analysis is an important intersection, that which occurred a mere 3 days before the attack. ISIS posted another "kill list", and Florida residents featured prominently on it. Interestingly, Palm Beach and Treasure Coast residents were highlighted. Intriguing.
(TV reporter Stewart Moore reported from the scene outside the nightclub in Orlando)
NOT only that, is it accidental or incidental that Sheikh Farrokh Sekaleshfar says the killing of homosexuals is the compassionate thing to do, yet, he was invited to an Orlando mosque, the Husseini Islamic Center, 5211 Hester Ave, Sanford, FL 32773 to "enlighten" fellow Muslims? Wow. Does freedom of speech now include incitement to murder??
HEY, patriots and at large pissed-off Americans, perhaps this mosque needs to be taught a lesson in "American-style justice." After all, it is not as if law enforcement is doing a damn thing – until after the fact! As previously mentioned, "Officials said the Islamist killer was on their radar." Bull-sh-t.
IRONICALLY, in the upside down world of the left's parallel universe – of which the LGBT movement asserts a prominent role – they are the first to jump to defend Islam's barbarians, regardless of the (dire) facts at hand. But the fact is that gays are despised (regardless of rampant homosexuality in Islamic society, but never mind all that cognitive dissonance), and must be eliminated in the same manner that Jews and Christians are similarly targeted. Hunted.
AND, in all honesty, this analysis is not written out of any particular sympathy for the gay community. After all, in most instances, they lock-arms with radical leftists and Islamists, whose sole desire is to destroy Israel. Never mind the fact that Tel Aviv is voted the most gay friendly capital in the western world. Sheesh.
ON the other hand, as an acknowledged expert on militant Islamic jihad – with a specialty in the Muslim Brotherhood Mafia – it is incumbent to warn Americans about the impending onslaught.
MOST significantly, patriots MUST internalize that whatever they have witnessed so far is nothing short of the previews and prelims to a very bloody war, one which will explode in America's streets in due course. Again, you are being forewarned!
NOW, it matters less than spit whether lone wolf attackers are to blame, or this or that hydra takes "credit."  Why?
CALCULATE the dangers thusly:
How many jihadis did it take to bring America to her knees on 9/11/01, even with all the logistical help inside and outside the nation? In other words, a little more than a baker's dozen can wreck untold damage.
The soon to be stepped-up nature of "lone wolf" or coordinated attacks – in large part due to the recent influx of many thousands of hardened and fighting age males from Syria, some of whom are ISIS – should be ringing MEGA alarm bells across the nation!
Intrinsically, whereas a string of "smaller" attacks (over the years) have already hit the nation from those whose roots were supposedly bound to American communities, how long will it take for others to explode, whose only life-blood has been in the epicenter of the jihadi war, Syria?
INDEED, Americans should cease worrying whether Omar Mir Seddique Mateen, of Afghani parentage, operated alone or with a cell's assistance. After all, just 10 more like him – operating separately, or in pairs of 2 – throughout the US can sow enough carnage and panic to bring a bloodbath to the streets.
THIS is where it's at.
ASK yourselves: despite babbling from the media, law enforcement and assorted politicians, as to whether or not ISIS or another takes "credit" for this and that, what difference does it make anyway, as Hillary famously intoned? After all, dead is dead!  
CONCLUSIVELY, but not exclusively, two additional points:
Americans, don't believe for a nanosecond that you dodged a bullet, as is said. Effectively, heterosexual Americans didn't escape squat, it just happened to be that this time a gay club was the target. Pointedly, every non-Muslim in the nation is in their gun AND bomb sights. This is a guarantee, as discomfiting as it is. Alas, to protect yourselves, there are only a few options left. Aside from being well-armed, a dual necessity involves a mental component. Which brings the discussion to Sun-Tzu, who expounded centuries ago in The Art of War: "All warfare is based on deception." Therefore, think strategically and tactically. Aim for the heart of their treachery;  their barracks, their mosques.
On a final note: recognize that officialdom, with the so-called mainstream media in the forefront – acting as a firewall for an anti-American regime – must be chucked aside. In this regard, Facebook is a HUGE part of the equation due to its gargantuan presence as the defacto Internet. Therefore, the following is a MUST read, in so far that hot on the heels of the horror in Florida, they did what they do best – they shielded Islam's barbarians!
YES, this is war. And that's a wrap – for now.
{re-blogged at Conservative Firing Line}