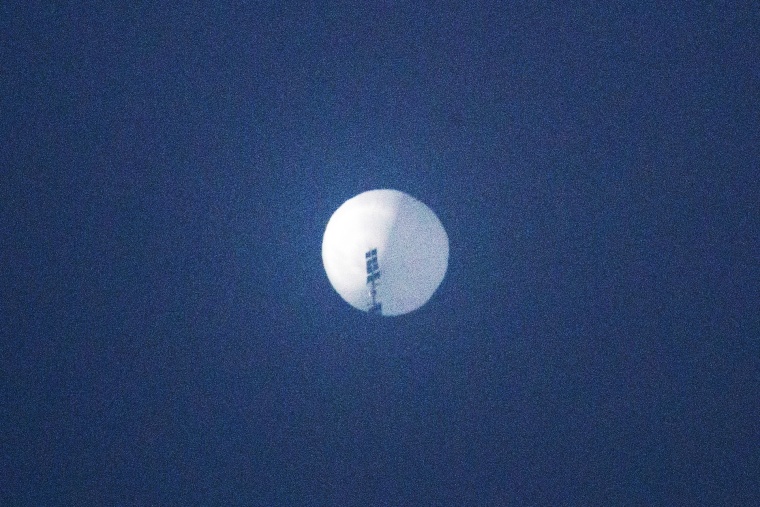 FIRST things first. In order of magnitude, too.
IF anything warrants a 'sit up and take notice' response, one would think that it would be the appearance of a 'mysterious' balloon hovering across the U.S. It begs the question: to what end is this obvious surveillance??
IPSO facto, why in the world are the mouthpieces of the Biden-Obama regime. a/k/a the Deep State Mafia, parroting nonsensical responses to that which poses a grave national security threat? Moreover, it is not the first 'mysterious' intrusion which elicited less than a yawn from higher-ups.
YOU got that?
IN a nutshell, the bizarre explanation of the Pentagon's talking head, that is, that 'falling debris' would endanger the public, etc., stretches credulity. This is so because at any juncture the floating behemoth could have been shot down over the vast ocean spaces! As the kids say, this is real 'sus'….suspect.
NOW, even Tucker Carlson is going with the Chinese scenario, albeit, he is totally on target re the Pentagon's beyond strange inaction; their convoluted narrative thereof.
YES, it is entirely possible that a hybrid exists between the highly suspect hovering, that is, via a 'collaborative mission' — between the Deep State Mafia and their Chinese partners, at times, overlords. As a template, think: the nexus and evidentiary trails re the unleashing of covid; between Fauci & gang & their Wuhan collaborators! Effectively, two treacherous teams acting in tandem, seemingly, in opposition! The twists and turns….spins atop spins….lies and more lies.
♦  ♦  ♦  ♦  ♦
REAL RAW NEWS | By Michael Baxter | February 3, 2023
The reason the regime hasn't shot down (see edit at bottom) a "Chinese spy balloon" in U.S. airspace is that the silvery object seen hovering above Montana is actually a Deep State surveillance balloon that has been spying on patriotic militia groups, a source in General Eric M. Smith's office told Real Raw News.
Yesterday, the MSM was awash with tales of a high-altitude balloon that purportedly flew over Alaska's Aleutian Islands, through Canada, and into Montana, a deeply Republican state and home to a rapidly dwindling militia that the Biden regime has long sought to eradicate. After news of the balloon hit the airwaves, Deep Staters Lloyd Austin and Gen. Mark Milley announced they had considered downing the Chinese dirigible, but opted not to because debris could have injured persons or damaged property.
Gen. Smith's office challenged the official narrative, saying Austin and Milley had no intention of firing at the balloon because it's theirs, not China's, and they and the regime launched the device to clandestinely keep tabs on a militia movement currently engaged in perfectly legal training exercises in central Montana.
"The balloon's flight path is different than what's been said publicly. It didn't enter the U.S. from Canada. It was launched from Fairchild AFB in Washington and moved under its own power to Montana. It has an electric prop and is remote-controlled, like a drone," our source said.
Asked how White Hats derived their conclusion, he said a confidential source at Deep State-controlled Fairchild AFB witnessed the launch but had no knowledge of the mission. Moreover, the balloon came to a dead stop south of Roundup, Montana, and loitered motionless for several hours, made possible by solar-powered turboprops powerful enough to neutralize motion relative to the prevailing winds.
Miles below, several hundred members of the Montana and Wyoming militias were involved in a joint wintertime training exercise, clueless that they were being surveilled. The maneuvers are moved to various locations annually because pernicious feds have adeptly infiltrated nearly every militia in the country.
Our source said the Montana and Wyoming militias have many former armed forces members still loyal to President Trump, including a relative of Gen. Smith.
The Deep State, he added, has technology that can count the number of hairs on a person's mustache from the stratosphere and stream that data back to an operator in real-time.
"If we could do it, they can too," our source said.
Asked why White Hats didn't avail themselves of the opportunity to destroy the balloon, he said, "The whistleblower at Fairchild, for whatever reason, didn't share intel with us until news went public. Also, we didn't have assets in the area. And like I said, it was probably live streamed right back to Fairchild, so not sure what good it would've done. We would've knocked it out of the sky if it had overflown our command centers."
We further asked why the Deep State used a balloon when it could have used a satellite.
"They no longer have access to them," he said but would not expound on his response.
If White Hats now control the nation's KH-11 surveillance satellites, it's a new development; several months ago, Gen. Smith's office admitted that spy satellites were under Deep State control.
Finally, we asked whether White Hats notified the Montana and Wyoming militias.
"They've been made aware," was all our source would say.
Update: Friday evening, Tyler Perry Studios White House Spokesdemon Karine Jean-Pierre said the regime received word from Beijing that the balloon was studying atmospheric conditions when it blew off course—by 6,300 miles, an improbability. White Hats continue to say it's Deep State and that the regime fabricated the Beijing explanation to put restless minds at ease.
Update 2: An object exploded in the sky above Billings late Friday evening. In a follow-up call, a source in Gen. Smith's office told RRN the regime might have shot it down to keep it from falling into White Hat's hands. After learning of the balloon's destruction, Gen. Smith and his council ruminated over the possibility that spying on patriots could've been incidental.
"It wouldn't be above the criminal administration to fill that thing with bioweapons and let it rain down on a State with a seething hatred for Biden. We have no proof of that, but we look at all possibilities. We do know it launched from Fairchild and was loitering at 60,000 over the militia exercise," our source said.
White Hats have no explanation for why a second balloon has been spotted over Latin America.
AS per DeSantis: there is no doubt at this end that DeSantis is a most effective Governor, bar none. After all, the proof is in the pudding, so to speak, and in too many ways to cite here. Even so, he has yet to prove that he is an authentic MAGA force.
INDEED, his recent unannounced arrival at GITMO, despite his JAG creds, doesn't 'feel' right. The point being: what exactly were his motivations? Time will tell.
♦  ♦  ♦  ♦  ♦
REAL RAW NEWS | By Michael Baxter | February 3, 2023
Florida Governor and presumptive 2024 presidential candidate Ron DeSantis was denied access to Guantanamo Bay after a spokesperson at his bequest informed Vice Adm. Crandall that DeSantis wanted to witness Ron Klain's military tribunal, which is scheduled for Friday, February 3, an adjunct to Admiral Crandall told Real Raw News.
DeSantis' spokesperson Christina Pushaw Wednesday afternoon informed JAG that DeSantis would arrive at GITMO early Friday morning to view the tribunal and, if time permitted, conduct a routine inspection of the base to ensure security protocols met his expectations. But JAG's special assistant for strategic planning denied the request, saying GITMO was not currently accepting tourists or politicians, including State governors.
The snub reportedly angered Pushaw because DeSantis had been allowed to tour the base during an unannounced visit last August. DeSantis walked the base on that visit with Admirals Crandall and David Wilson, who listened to DeSantis reminisce about his days as a Navy JAG officer at GITMO in 2006. Neither Vice Adm. Crandall nor base commander General Lance A. Okamura objected to DeSantis' presence at the time.
Afterward, Gen. David H. Berger spoke to Adm. Crandall and said allowing DeSantis to visit GITMO was like "letting a fox in the coop." Berger, who has largely recovered from wounds sustained at the hands of his abductors, had long voiced a palpable dislike for DeSantis, and on more than one occasion labeled him a Deep State sympathizer.
According to our source, Berger and Crandall had a tiff last September when the latter said he and his staff, not Camp Pendleton, governed access to Guantanamo Bay. "We each have unique responsibilities," Crandall said, to which Berger replied, "We have a symbiotic relationship, you and I. I'm not trying to step on your toes—just giving friendly advice." A few days later, Crandall received a call from none other than President Trump, who encouraged him to forbid unauthorized personnel from setting foot on GITMO but stopped short of issuing a direct order. Trump, who this week called DeSantis a globalist RINO, warned Crandall that DeSantis had questionable allegiances.
"President Trump apparently feels GITMO may have been infiltrated. I think he communicated that to Adm. Crandall. I think when Adm. Crandall entertained Gov. DeSantis in August, it was a courtesy, one Navy officer to another. DeSantis was displeased at hearing he wouldn't be allowed back. He could be heard in the background muttering unkind words while the admiral's assistant was talking to Ms. Pushaw," our source said.
Asked whether Adm. Crandall conferred with Trump before refusing DeSantis' request, our source added, "I don't know. But he's persona non-gratis around here right now."
♦  ♦  ♦  ♦  ♦
{ADDENDUM: Bear uppermost in mind — To stifle the truth-telling found at this site, FB's censors have "zeroed-out" all of my articles via their "Boom and Ban" censors ala their ubiquitous "Community Standards" — as they hunt me up and down the internet like rabid dogs to their prey! No kidding. This is just some of FB's modus operandi, what is now deemed their "love notes" to yours truly:This URL goes against our Community Standards on spam:adinakutnicki.files.wordpress.comACTIVITY
About your post Today at 4:34 PM: No one else can see your post.And so on and so forth. In fact, just recently, each article at my "parent site", ADINA KUTNICKI: A ZIONIST & CONSERVATIVE BLOG, had its FB registered shares go from the hundreds, with some up to the many thousands, to a big, fat ZERO. In other words, all my shares have gone down the rabbit hole. Just like that. Poof. Gone. As such, take it to the bank that each and every conservative voice which reaches a wide readership will, sooner than later, be CENSORED. MUTED.} MESSAGE FAILED:This message contains content that has been blocked by our security systems.If you think you're seeing this by mistake, please let us know. Yes, additional "proof-in-the pudding" as to why "BANNED: How Facebook Enables Militant Islamic Jihad" had to be written!}