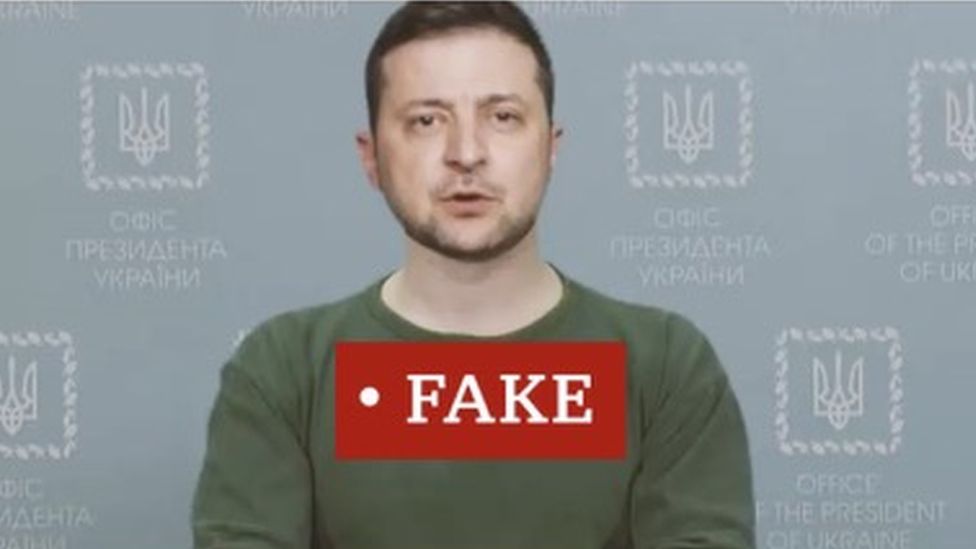 NOW you see it, now you don't …. a magician's sleight of hand is, to one degree or another, playing out on the world stage. This go-around, a thoroughly corrupt, pedophile-sheltering, murderous actor has been put in place by similarly inclined globalists and their U.S. paymasters. Believe it. Most ominously, they are egging on nuclear war with wild abandon, that is, they are championing it!
NOT only that,
(Scroll to 11:10 and onwards to view the mendacious "side-show", and so much worse!)
ALAS, the following is more than food for thought!
♦  ♦  ♦  ♦  ♦
REAL RAW NEWS | By Michael Baxter | October 14, 2022
Since the start of Russian President Vladimir Putin's "Special Military Operation" in Ukraine, the public has been inundated with images and video of alleged Russian atrocities: photos of a heroic Volodymyr Zelenskyy standing alongside Ukrainian troops and kneeling beside fallen, shrapnel-ridden soldiers with their guts torn out; video of Russian bombs shredding civilian apartment buildings; Russian tanks and artillery blown to bits; and, yes, disturbing images of what Zelenskyy has called mass graves brimming with butchered bodies of valiant Ukrainian freedom fighters.
But these presentations are technological illusions created with green screens, CGI, and Deep Fake technology, at least according to a Russian Federal Service Bureau Agent named Alek Melnikoff who claims Hollywood has helped Zelenskyy perpetuate the biggest fraud humanity has ever seen.
Real Raw News wants to be clear: we have yet to fully authenticate Melnikoff's assertions. We have verified his credentials—he is who he says he is and is employed by the FSB, a successor agency to the KGB that specializes in counterintelligence, internal and border security, counterterrorism, and surveillance as well as investigating some other types of serious crimes and federal law violations. We acknowledge he could be a disinformation agent and are publishing this piece because some of his testimony aligns with content published earlier this year about Putin's motives for entering Ukraine.
First, Melnikoff admits civilians have perished in the conflict; collateral casualties are unavoidable, especially when a "madman" who harbors pedophiles and allows foreign bioweapon laboratories on his soil refuses conditional overtures of peace. "Reasonable" conditions, he said, include signing an armistice agreement by which Zelensky would be allowed to retain power if he renounces the Biden regime and pledges to keep Ukraine free of child traffickers and foreign "contaminants."
Zelenskyy, he added, has chosen to risk the lives of innocents rather than consenting to reason, so much so that he has manufactured a "fake war" using Hollywoodized studios he erected in Kyiv and Kharkiv. Vladimir Putin wants to destroy the stages, but Zelenskyy has hidden them well.
"President Putin knows they exist. He tries to find them. What you see on Western Television is fake. Fake graves. Fake bodies of Russian soldiers. Fake bombs going off. Fake babies being killed. This is all done with technology to get sympathy for the pig Zelenskyy. And, yes, your President Biden, he knows the truth! He is party to it," Melnikoff told Real Raw News.
Besides implicating the illegitimate administration, he implicated the Hollywood elite, saying Vladimir Putin has surveillance video of "Hollywood producers and special effects guys" crossing the Poland-Ukraine border near the city of Zosin – Ustyluh with "truckloads" of gear. Melnikoff would not name names, specifically, but said, "Don't you be surprised if people like [Stephen] Spielberg and [Christopher] Nolan are involved."
"The level of deception is amazing," Melnikoff said. "Even Putin was impressed at the production. It is pulling the wool, as you say, over the eyes. If a person doesn't know better, how they can tell the difference between a real war and fake. Many American dollars made this possible."
In closing, we want to reiterate that we need more proof. It's entirely possible that a Russian agent could have read the articles we published in February, March, and April, and parroted some of that back to us. We will supply additional information when we have it.
♦  ♦  ♦  ♦  ♦
{ADDENDUM: Bear uppermost in mind — To stifle the truth-telling found at this site, FB's censors have "zeroed-out" all of my articles via their "Boom and Ban" censors ala their ubiquitous "Community Standards" — as they hunt me up and down the internet like rabid dogs to their prey! No kidding. This is just some of FB's modus operandi, what is now deemed their "love notes" to yours truly:This URL goes against our Community Standards on spam:adinakutnicki.files.wordpress.comACTIVITY
About your post Today at 4:34 PM: No one else can see your post.And so on and so forth. In fact, just recently, each article at my "parent site", ADINA KUTNICKI: A ZIONIST & CONSERVATIVE BLOG, had its FB registered shares go from the hundreds, with some up to the many thousands, to a big, fat ZERO. In other words, all my shares have gone down the rabbit hole. Just like that. Poof. Gone. As such, take it to the bank that each and every conservative voice which reaches a wide readership will, sooner than later, be CENSORED. MUTED.} MESSAGE FAILED:This message contains content that has been blocked by our security systems.If you think you're seeing this by mistake, please let us know. Yes, additional "proof-in-the pudding" as to why "BANNED: How Facebook Enables Militant Islamic Jihad" had to be written!}